Great Fryup Dale near Lealholm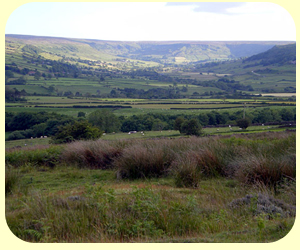 Great Fryup is one of the dales of the Esk Valley, possibly one of the most picturesque.
The name 'Fryup' is thought to be derived from 'friga' an old English personal name and 'up' or 'hop' meaning valley.
Twelve thousand years ago Little and Great Fryup Dales were part of a glacial lake, but now as you can see it is a patchwork of walls and hedges with a few farms and houses dotted here and there. A stream runs through the bottom of the dale called Great Fryup Beck which is a tributary of the River Esk.