Fryup, North York Moors and the Surrounding Area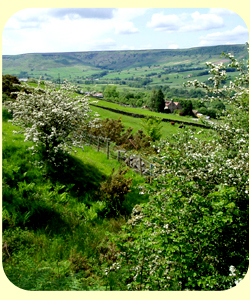 For those who want to stay close to the Dale, Fryup is a perfect location for walking. The owners can suggest suitable walks within the Dale and also beyond. Cycling is also very popular in the area and bikes can be hired from several outlets including near Whitby and Pickering where special cycle paths exist. The newly refurbished North Yorkshire Moors Centre at Danby (4 miles) provides a good starting point for a holiday to the area and has plenty to keep everyone, young and old, amused.

Lealholm (3 miles) is often popular for a family day out including a picnic and relaxing beside the River Esk that meanders through the village. Children love to cross the river using the stepping stones and paddle in the shallow parts of the water. Lealholm has a shop with adjoining tearooms, Post Office, petrol station, pub with restaurant, and a bakery. The village boasts two small churches, namely Catholic and Church of England and a Methodist Chapel. A delightful Garden Centre nestles in the heart of the village. It has a railway station that is on the Middlesbrough to Whitby line and connects with the North Yorkshire Moors Steam Railway at Grosmont. A limited bus service also runs to Whitby and back to Lealholm.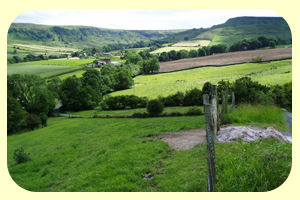 It is lovely to drive through the villages and take in the splendour of the moors especially in August when the heather is in full bloom. 'Heartbeat' country is easily accessible and Goathland, known as 'Aidensfield' to the TV viewers (10 miles) has become a popular place to visit as is the quaint fishing town of Whitby (12 miles). A short journey over the moors to the west of Ellers Farm is the picturesque village of Hutton-le-hole (10 miles) where a visit to Ryedale Folk Museum set in the open air provides an interesting day out. For those who are happy to travel further afield, locations such as Scarborough (32 miles) and York (40 miles) provide great days out. The above is just a very small sample of what is actually available and accessible during a stay in Great Fryup Dale. We can provide further information of places to visit and activities to undertake in all kinds of weather for every age group.